Halte Saint-Michel : La Cour Mare 61120 Crouttes

lieven.vercruysse@hotmail.com

phone 0033 2 33 36 12 76

mobile 0032475797336
recognized by "l'Association des Chemins du Mont Saint Michel"
(www.lescheminsdumontsaintmichel.com)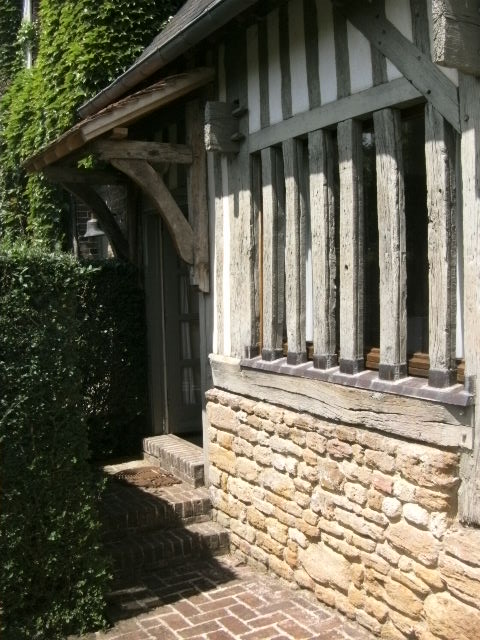 Small "refuge" on the road Rouen-Mont Saint-Michel - Santiago de Compostela for maximum 3 pilgrims passing through on foot or by bicycle.
15 €/person with Credencial, 18 €/person without Credencial
The Mont Saint-Michel is at 180 km and Santiago de Compostela at 2000 km
The refuge offers all modern comfort and is part of an old authentic farmhouse of the 17th century overlooking the priory Saint-Michel.
The refuge can accomodate up to 3 pilgrims in a shared room with kitchinette, dining- and sitting area. There is a single bed and a dubbel bed. There is a separate shower-room and a toilet. Pilgrims must bring their own sleeping bag.
Meals can be prepared in the kitchenette equiped with microwave, electric cooker with 2 hot plates and oven, refrigerator with freezer, electric kettle and coffeemaker; Crockery, cutlery and pans are provided.
In Crouttes there is no shop or bakery. Beverage, bread, cheese, spaghetti etc can be purchased on the property.
If desired a washing machine and dryer can be used.
The refuge has WIFI
There is a bicycle shed.
Possibility to place a tent (with credencial 5 euros for the tent and 5 euros per person. Without credencial 6 euros)
Stamping of the Credencial



Panel: nr 6 La Cour Mare

Crouttes : the center

here descent at left

at the end of the descent turn right

here right

signboard at the entrance

signboard detail
availibility calender